Father and son Jerald and J.J. Pritchett of O'Neill, Nebraska know baling like the back of their hand, having done custom haying for decades.
At their peak, they were baling 28,000 bales of alfalfa, grass hay, oat hay, wheat straw, soybean stubble, edible bean stubble and cornstalks.
They practically lived in the tractors.
"At 9 years old, Dad put me in the tractor," said J.J. "I ran the baler and he ran the rake. I baled 5,000 bales that summer."
By the time he was 16, J.J. and Jerald were wearing out two balers a year. They were using a semi-load of twine and netwrap themselves, then neighbors started coming to them to get a better deal for the baling products.
Twenty years later, the Pritchetts now own and operate Pritchett Twine and Netwrap LLC. It's a family-run hay supply business with locations in three states. Jerald and his two sons, J.J. and Cody, run the headquarters in O'Neill. Daughter Sara Cuka manages the Scottland, South Dakota, office. In May 2020, they opened a third location at Hillsboro, Kansas, which is managed by Jason Sneed.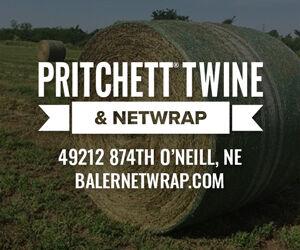 Jerald began the company from the ground up in the 2000s, unafraid of the hard work required to start a business. He'd been through plenty of hard labor in his younger days.
When Jerald was in his 20s in the 1980s, times were tough in agriculture. He was so desperate for a job that he decided to work at a local junk yard in O'Neill. He swung a sledge hammer, cracking engine blocks for $10 per block. The most he could crack in one day was six engine blocks.
He did this for three months before asking Dr. Don Bailey for a job at his ranch near O'Neill. Bailey initially said he couldn't hire another person because the times were so tough. Jerald offered to work two weeks for free to prove that he was worth it. He was hired—receiving full payment for his time—and took care of Bailey's ranch operation for almost 20 years, except when Bailey shut down his ranch to serve in the U.S. Army Reserves during the Gulf War.
Bailey restarted his ranching business after fulfilling his army duty. When he retired from his medical practice and the military, Jerald helped him whenever needed on the ranch. Jerald would also custom bale on days off or during the night.
That led him to creating his own hay supply business.
"He started with absolutely nothing," J.J. said of his father. "My dad worked 16-18 hour days seven days a week, nonstop to get where he is at today."
When Jerald pursued his hay company, he realized the upside of owning a business compared to working for someone else for a living. The first year, Jerald sold $180,000 in twine and netwrap, as well as doing custom baling.
Netwrap was a new product at the time. The Pritchetts bought one of the first netwrap balers in the area in 1998.
"We realized the potential for netwrap because it increases speed, but the first year we couldn't get anybody to let us put netwrap on their bales," said J.J.
Wrapping a bale four times with netwrap takes about eight seconds, whereas twine averages 60 seconds. But customers balked at the additional cost for netwrapping bales.
The Pritchetts would make 15 bales with netwrap at the price of twine bales. After realizing the speed advantage of using netwrap over twine, the Pritchetts charged $1 more a bale for twine-wrapping bales.
"Pretty soon everything we custom baled was with netwrap on it," said J.J.
It was not long before netwrap became preferred. For the Pritchetts, using netwrap shaved off significant time spent baling, which also eliminated a lot of wear and tear on equipment. For the producers, it reduced shrinkage and better preserved the forage.
In 2010, the Pritchetts sold their custom-haying equipment to focus on the hay supply company. Jerald still puts up about 5,000 bales a year to test the netwrap products they are selling.
Jerald also sold the cow-calf operation but continues to raise yearlings. The Pritchetts know all aspects of hay, from baling to storing to feeding.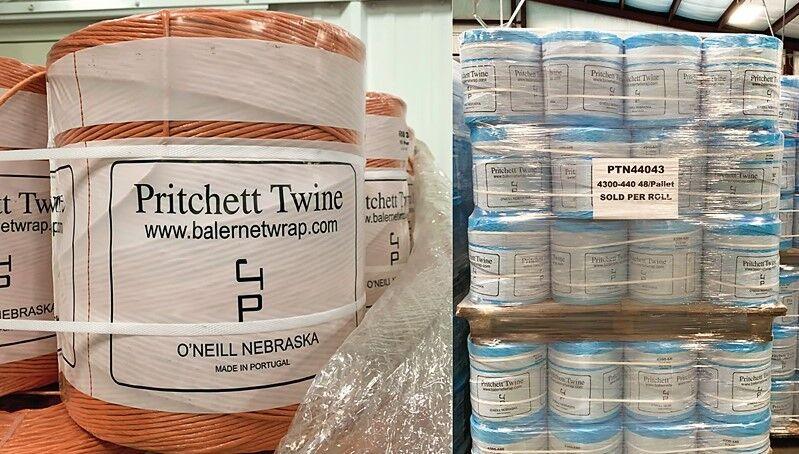 The Pritchetts wanted a more durable, heavy-duty netwrap for the 12,000-16,000 cornstalk bales they were rolling up every year. Over the course of two years, they developed their trademark Pritchett Netwrap by working with a manufacturer in China.
With its heavier polyethylene composition, Pritchett Netwrap flows better through the baler and resists tearing. It also lays flatter on the bale.
Their signature pattern sets them apart, they said. Pritchett Netwrap has three stripes in the middle with two stripes on the outside. This differentiates what side of the baler it fits in.
Netwrap colors are available in blue, red, purple, green and white, as well as a roll of red, white and blue. They offer many colors in sizes 64 inches by 7,000 feet and 67 inches by 7,000 feet length, giving customers an option to color code the crops that they bale.
They now sell 70,000 rolls of netwrap a year to customers in 40 different states, including two semi-loads a year to Alaska.
Netwrap for large round bales is sold in widths of 48-inch and 51-inch for a 4-foot bale, and 64-inch and 67-inch for a 5-foot bale.
Baling twine is another major component of their business. They offer plastic, solar and sisal twine. The sisal twine is manufactured in Brazil, whereas the plastic twine comes from Portugal.
Large square bales are gaining popularity, mainly because of transportation factors. Where a semi-load of large round bales will overhang the sides of the trailer, large square bales usually fit the parameter. Moreover, some states have width restrictions on semis.
"If shipping bales from Nebraska to Texas, you go through states with width restrictions or narrow bridges, so it's more feasible to transport large square bales," said J.J.
Small square bales typically are tied with plastic twine. Rarely does someone request sisal twine for this size of bale, but J.J. said he does sell some. Occasionally, he also gets requests for binder twine for the old Allis Chalmers roto baler.
Another niche market is a 26-inch netwrap for pine needle bales, a hot commodity in southeastern U.S. Homeowners use pine needle straw around foundations to deter termites or to decorate. J.J. said they sell about 2,000 rolls a year of the 26-inch netwrap.
Pritchetts also sell silage film, as well as a hay feeding knife with a 30-inch handle and folding razor blade.
They are distributors of Culbac products. These additives help preserve forage, especially during those untimely weather events that can destroy a hay crop.
"If you have a rainstorm coming, your choice is to let it get wet and rot in the windrow and have second-rate hay," said J.J. "Or just bale it and have caramelized hay on the inside or black, unfeedable hay, which also raises your chance of your hay setting on fire."
Applying Culbac helps prevent this. J.J. said they have baled up to 30% moisture hay using Culbac that resulted in "more palatable pristine hay."
Culbac livestock products area also meant to restore digestive health in cattle, poultry, horses, sheep and hogs by stabilizing bacteria in the digestive system so animals can better absorb nutrients.
"If we don't have a product that people want, I am really open to helping people get what they want," said J.J.
Reporter Kristen Sindelar has loved agriculture her entire life, coming from a diversified farm with three generations working side-by-side in northeastern Nebraska. Reach her at Kristen.Sindelar@midwestmessenger.com.