The prairie vole is a common rodent that can be a pest in fields and for some fruit trees, as well as causing damage in yards.
Voles are herbivores that feed off plants, and they build tunnels as escape routes from predators.
Matt Springer works as an assistant Extension professor of wildlife management at the University of Kentucky, and he says vole colonies can build a substantial number of tunnels.
"The more escape routes you have, the better," he says.
In addition to crop damage, Springer says voles can cause yard damage and cause issues with apple and blueberry production, especially with girdling of apple trees and blueberry bushes.
In crop systems, soybeans in particular are susceptible to the voles' damage.
"We see a lot of vole issues now in our soybean fields," Springer says. "It's believed to be linked to cover crop systems, but that's not always true."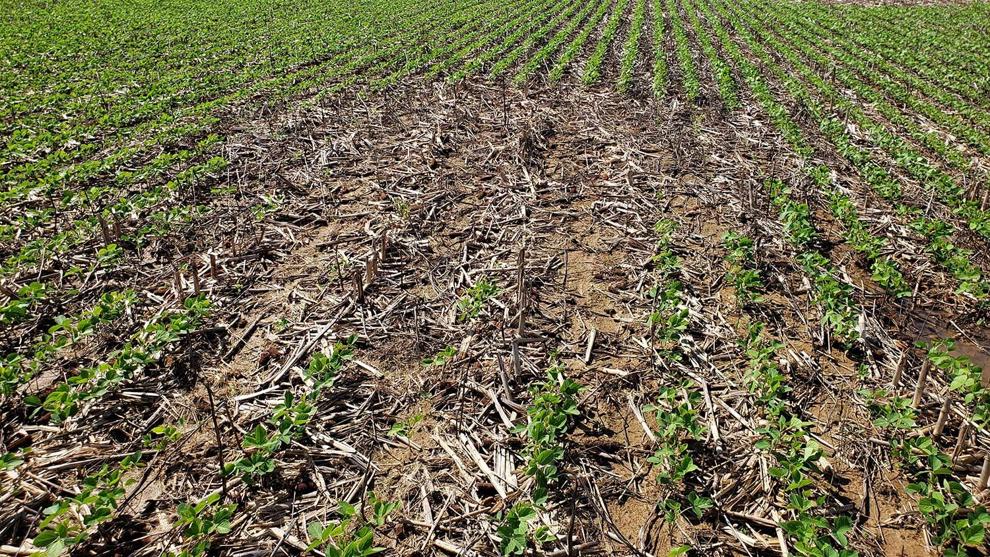 Voles are sometimes present in corn fields, although signs of their presence are much less visible.
Springer says soybean fields can see significant signs of damage from vole tunnels and the rodents eating crops.
"I have pictures of fields that look like Swiss cheese," he says. "We've had producers who have had to try to replant fields because they've had so many issues while trying to get a stand."
Craig Harper, University of Tennessee Extension wildlife specialist, says voles can be a significant issue in a variety of ways.
"They can cause production loss to crops, especially with soybeans," he says. "They can do damage around the house to shrubbery and fruit trees. They can girdle or eat the roots of planted apple trees. … They can definitely be a real problem."
Harper says people can see evidence of vole activity in their small holes that lead to tunnels or "runways." The rodents feed on smaller plant material, in particular soybeans at younger stages.
"They're eating the undersized structures, the roots, and often the stems as well," Harper says.
Trying to gauge the impact of voles can be challenging, Springer says. With deer, people can build a fence around a field to keep them out and then compare with a field deer have access to. But voles are difficult to keep out, he says. Also, just seeing the holes of a vole colony in a field does not necessarily mean it is an active colony.
It is difficult to predict if vole issues will occur. Springer says one field might have a lot of vole problems, but then a field across the road will not. He says the rodents often pop up along roadways and along streams, and the voles may move into bordering fields when a new food source arrives.
It does seem that fields with vole issues will have them multiple times, and fields that don't typically have vole issues are unlikely to suddenly have them. Springer says research shows higher ground in fields is more susceptible to vole issues, as the animals usually build colonies in areas less prone to flooding.
There are a variety of ways to deal with vole issues, although crop producers may have some limitations. In small areas of vole issues, especially yards, snap traps work well, Springer says. Harper says people have had success baiting the traps with peanut butter.
Zinc phosphide is a rodent poison that can kill voles. However, while it is an approved rodenticide for apple and blueberry production, it is not approved for use in soybean fields currently. Springer says producers can apply the zinc phosphide to areas bordering fields for some control.
Spot tillage is another option.
"Tilling seems to break up those colonies," Springer says. "Spot tilling may be an effective option."
However, he says many producers are committed to no-till practices, or are enrolled in the USDA EQIP program, and he says spot tillage is not an eligible practice in that program.
People can also set up raptor perches around vole colonies — 2-feet-wide boards that allow birds that hunt voles to perch and more effectively hunt the rodents. But Springer says if a farmer has 40 vole colonies in a field, they wouldn't be able to put up that many perches.
He says red foxes are also very effective hunters of voles.
Springer says regulators may consider approving zinc phosphide for use in corn and soybean systems, but for now producers have to sort through limited options.
"Unfortunately right now, we don't have a lot of good answers for folks," he says.