Calving season is in full swing and beef producers know full well that Mother Nature can have a huge impact on whether a calf will make it to weaning or not.
At the recent Nebraska Women in Agriculture conference held in Kearney, Nebraska, Dr. Lindsay Waechter-Mead, a Nebraska Extension livestock systems educator based in Webster County, said weather is an issue in calf deaths: "One beef study noted out of the 6.4% of calves lost before weaning 81% died in the first three weeks following birth. Of those 25.6% of operations listed weather as a primary cause of death."
Waechter-Mead speaks from her own experience not only as a veterinarian with 12 years of practice, but as a fellow cattle producer.
"Our family has a Red Angus operation with a focus on heifer development. I'm a fourth-generation cattlewoman, and along with being a vet, I'm also an educator having taught vet school. My kids are the fifth generation on the farm started by their great-grandfather," she said.
Nebraska's fickle spring weather brings wide-ranging temperature swings, and with it the challenge to maintain thermal regulation in newborn calves. Waechter-Mead discussed how to help regulate a calf's temperature when air temps are subzero.
"A calf has two ways to maintain temperature – shivering, as well as brown fat, which is the tissue around the kidneys and heart that contain large amounts of capillaries and mitochondria," she said.
Interruptions to thermoregulation can include environment, birth weight, age of dam, dam nutrition and dystocia, noted the vet. If the environment is cold and wet the calf will have a harder time drying off. With birth weight, the heavier the calf the better their chance of survival. With the mother, the older the cow the better the rate of survival.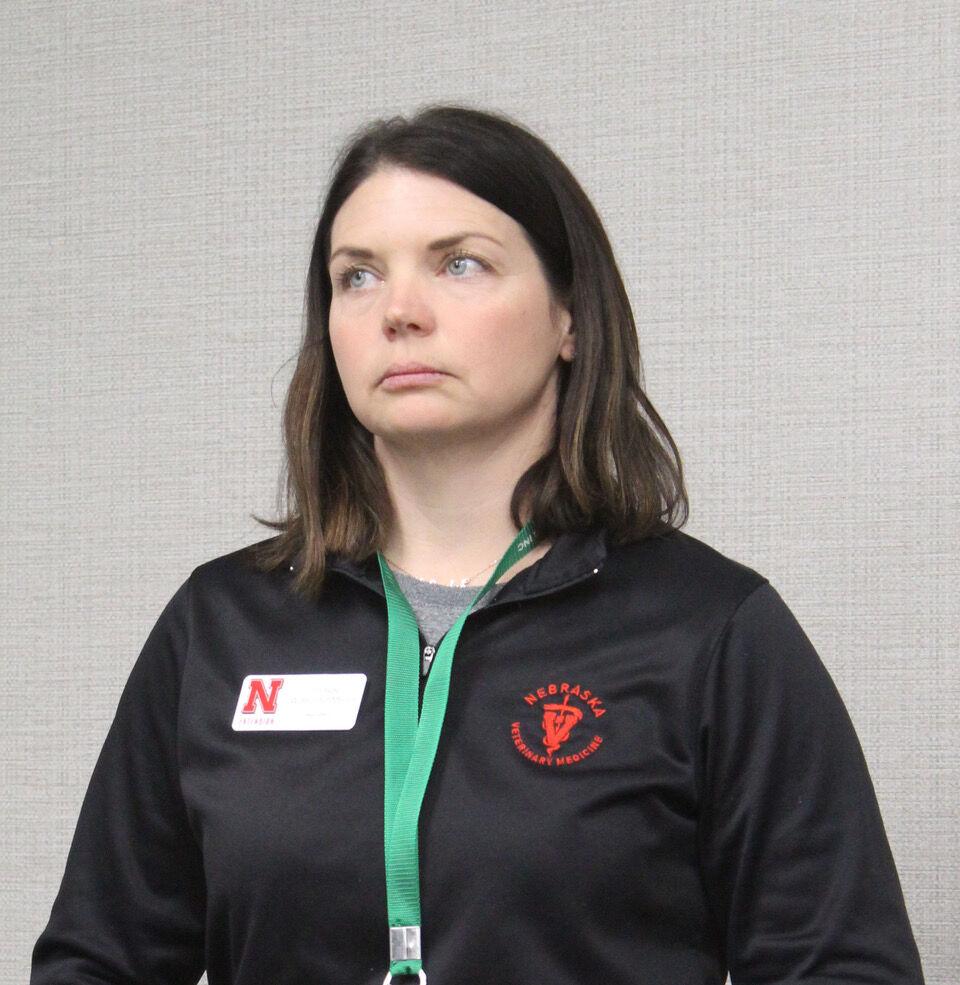 "Nutrition is a big part of how that calf is going to survive and is something you have to think about year-round," Waechter-Mead said.
Finally, dystocia, which is a difficult birth, impacts survival. "If the calf is too big for the cow it will limit oxygen to the calf, which means there is a depressed respiratory system. When they can't take a breath, they can't get rid of CO2. The blood becomes acidic which leads to acidosis," she said.
Following birth calves should start to stand within 30 minutes.
"Colostrum is your best friend. If a calf doesn't have a suckle reflex the odds are 41 times greater of failed colostrum consumption. In cold temperatures colostrum is a way to warm the calf internally," she said. "Mama is first, second is replacers and it is important to have the right kind and right amount."
Waechter-Mead noted it is important to follow replacer expiration dates. Producers can also freeze colostrum for nursing emergencies.
"Freeze it flat and it can stay for a year. Then thaw with warm water when needed," she said.
There is a very narrow window to receive the most benefit from ingesting colostrum.
"Within 24 hours after birth a calf can't absorb the antibodies anymore," she said.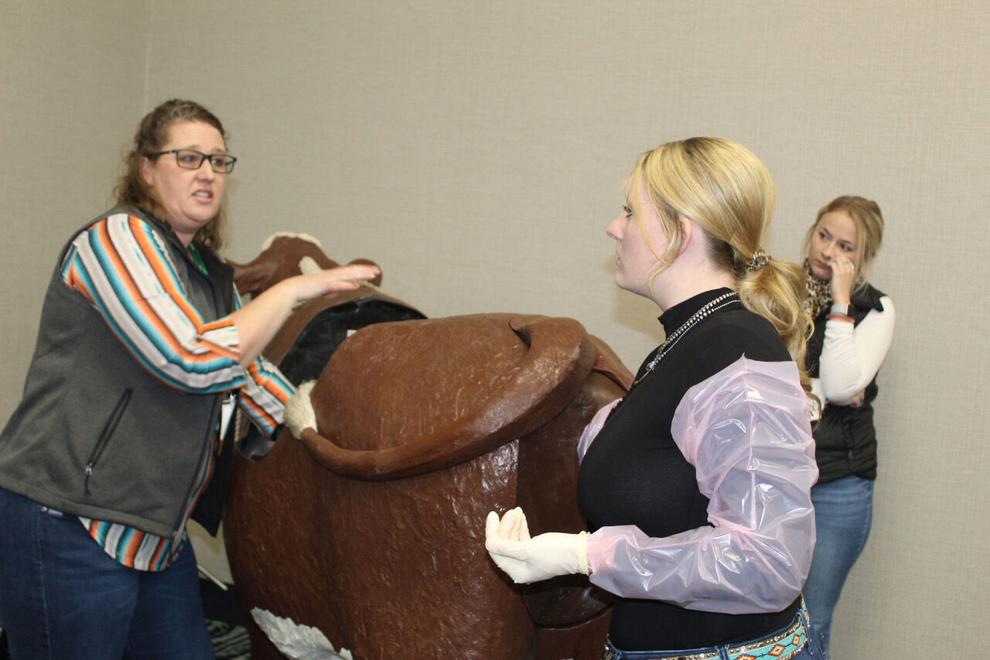 External warming options for a chilled calf include calf warming huts, the floor bed of a pickup or truck and warm water in a tub.
"Have a thermometer on hand," Waechter-Mead said. "Check the calf's temperature when putting it in the heat box. Once it is able to hold head up and the body temperature is about 99, then tube it. A calf's normal temperature is between 101.5 and 102.5. A lot of times it's using your gut and your feelings. Be cautious and take care not to have thermal burns, especially in calf huts with metal grates."
Joining Waechter-Mead at the workshop was Dr. Becky Funk, an Extension beef specialist based at the Great Plains Veterinary Education Center at Clay Center, Nebraska, who focused on newborn calf resuscitation and rescue. Funk previously practiced as a veterinarian in Lexington and Rushville and accepted her Extension position in 2020. She lives in Lawrence with husband and two children, and they have their own small production herd.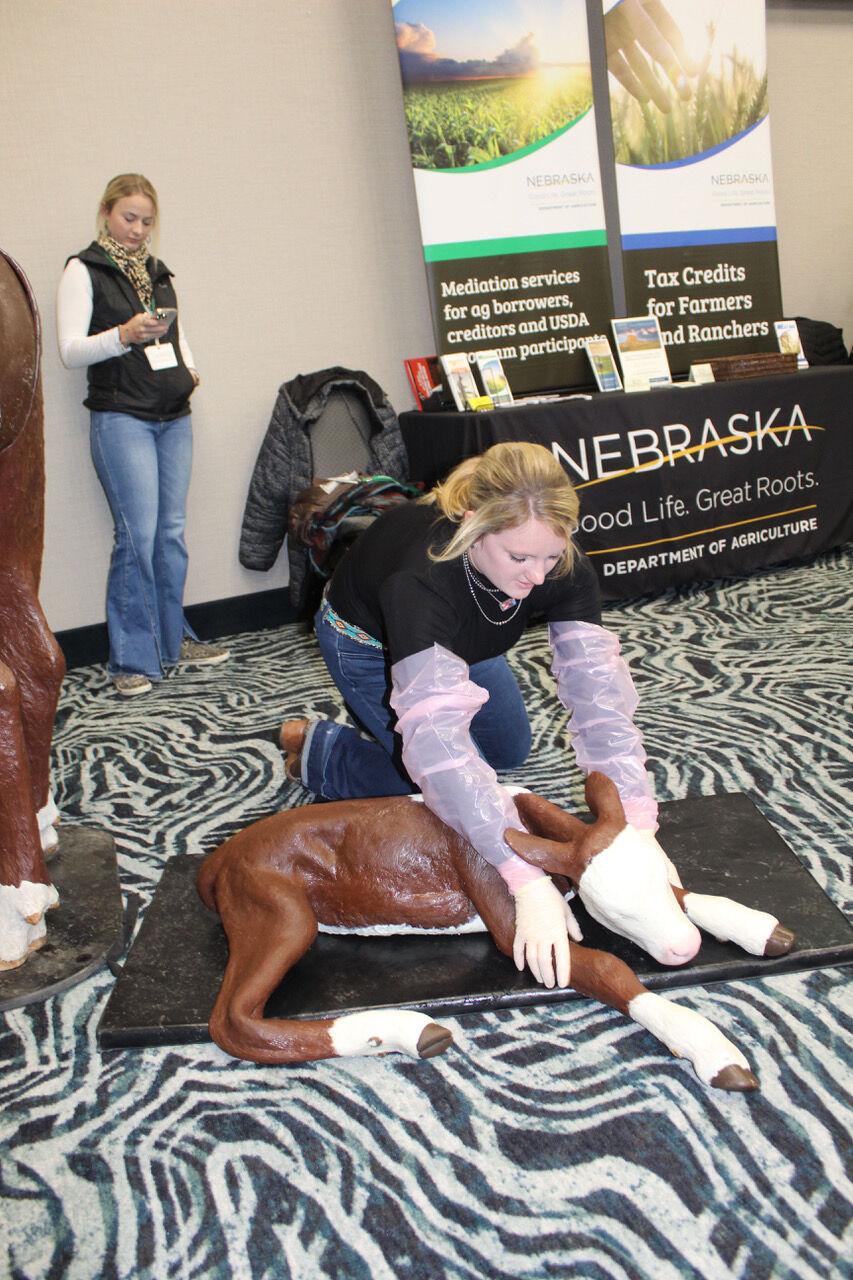 Signs that a calf needs help include failure to take a first breath, slow or difficult first breath, dystocia, meconium staining (fecal discharge during birth), swollen face or muzzle, acting "dopey" or tired nursing, or failure to rise and nurse within 20 minutes following birth.
When to intervene depends on a calf's respiratory rate or pattern, demeanor, whether it is able to right itself, muscle tone and whether it has a suckle reflex.
"A hand in the mouth tells me worlds about how a calf is," Funk said.
Using a model baby calf Funk demonstrated the proper recovery position for a struggling newborn calf.
"Not over a fence, not headfirst, no swinging around," she said. "These might make us feel good to get fluid out, but that's stomach fluid and doesn't help the respiratory tract. So, a sitting position is best with the calf propped up with a tripod formation out on its sternum. This takes pressure off the diaphragm and gives a calf the best chance to expand its chest wall and inflate the lungs."
Respiratory stimulation is also helpful. Options include noxious stimuli such as rubbing straws in the nose, fingers in the nose or pinching the nasal plenum. Acupuncture, such as a 20-gauge needle in the center of the muzzle just through the surface, is purported to stimulate the respiratory control center.
"While it doesn't hurt it only has a 30% success rate," said Funk.
If general stimulation is required it is not the time to be gentle, said the vet.
"Use a firm aggressive scrubbing motion. Concentrate on the head and face first, move to the torso and epaxial (back) areas next, scrubbing hard and fast," she said. "Signs of success will include a head shake, first vocalization and the first attempts of getting feet under them and then up."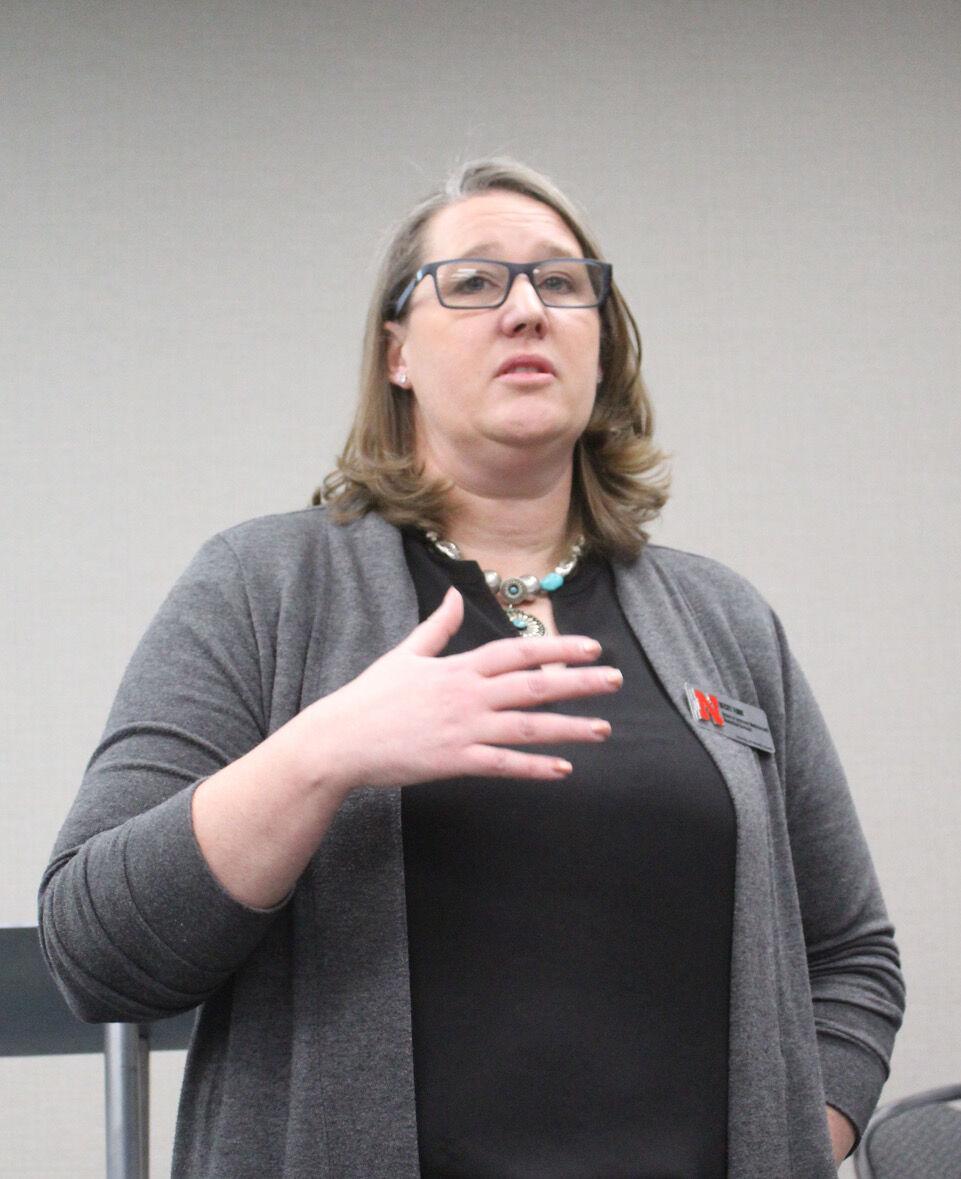 Both Funk and Waechter-Mead discussed a technique called the Madigan Squeeze, which can serve as a reset for calves that are struggling. They noted it came from equine world and costs nothing but some time. It involves the use of a rope across the shoulders and abdominal muscles and constant pressure to stimulate release of a neurotransmitter. It has brought some dramatic turnarounds in "dummy" or "floppy" calves, they said
Both also noted pharmaceutical interventions are not as viable as determining what the underlying causes of sluggishness are. These could be anything from a vitamin deficiency to neurological problems.
Funk reemphasized the importance of feeding those baby calves.
"Calves that have a slow start in life are statistically more likely to suffer failure of passive transfer. A weak suckle reflex indicates the need for nutritional intervention," she said. "Tube feeding or bottle feeding of colostrum will assure adequate consumption. Finally, feeding multiple doses during the first 12 hours of life should be considered, as absorption is also slowed by a difficult birth and/or decreased vigor."