When Kansas high school senior Abby Porter heard her name called as the winner of the national FFA veterinary science proficiency award at the 95th National FFA Convention in Indianapolis, Indiana, this fall she was shocked.
The senior at Beloit Junior-Senior High School in north central Kansas told Midwest Messenger, it was a moment she'll never forget, learning she won while on stage at the convention in front of 65,000 people.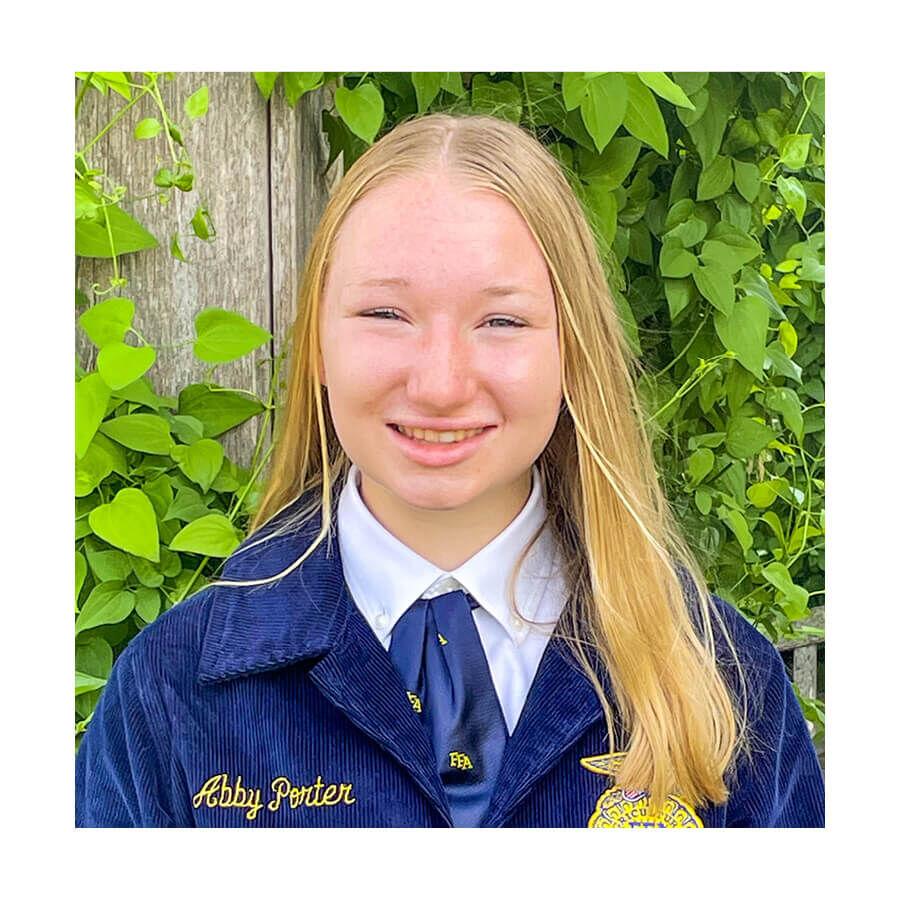 "I thought - there was no possible way I would win after meeting with the other contestants and getting to know them and their amazing SAEs, but to my surprise, my name was called as the winner," she said. "All I remember is that I was so taken aback that my advisor, Michael Wright, had to push me forward to receive the award!"
Agricultural Proficiency Awards honor FFA members who develop special skills through supervised agricultural experiences (SAEs) that they can apply toward their future agriculture-related careers. The SAE that helped Porter win the award is her ongoing work at Solomon Valley Veterinary Hospital in Beloit.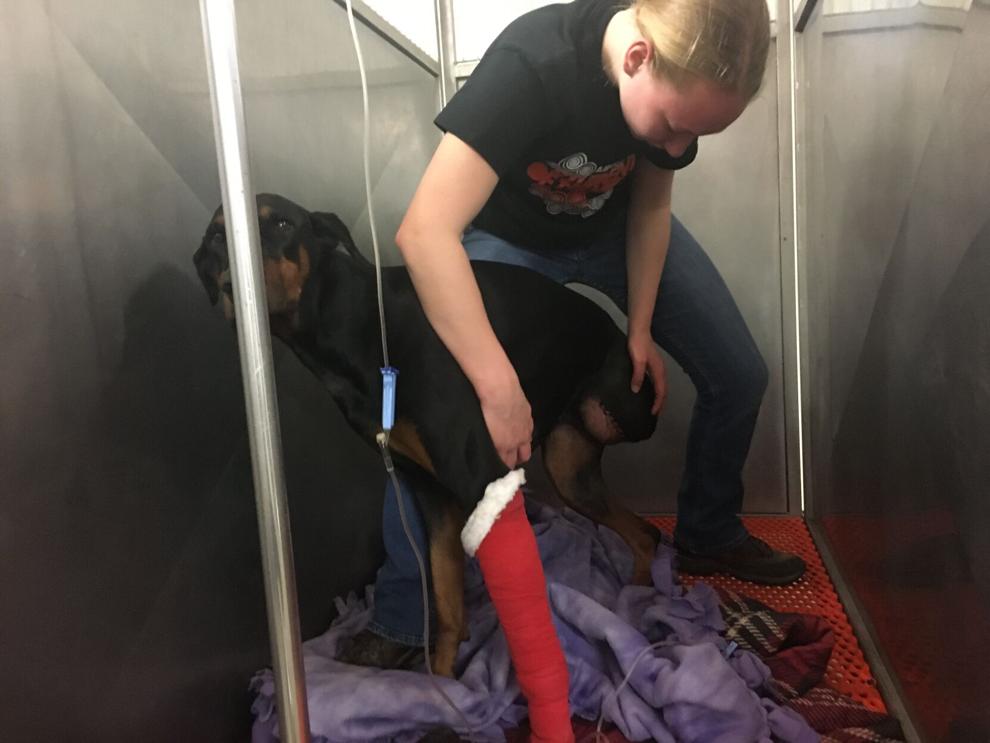 "I enjoy assisting with surgeries most, but it's not just about working with animals; I love being there for people, maybe when they're going through a hard time, to be able to assist them," said Porter, who has worked at the vet clinic for more than five years.
A total 10 members of Beloit's FFA chapter, including Porter, went to Indianapolis with their two FFA advisors.
"Abby Porter is a student that any teacher would be fortunate to have in class," adviser Garrett Craig said. "An FFA president like Abby makes my life easier. She shows leadership to her peers through the example she sets of hard work, integrity and a positive attitude. All of those things surely contributed to her success at the vet clinic, which has translated into this huge honor."
An ag education instructor, Craig, is co-advisor of Beloit FFA with Michael Wright.
"Abby has been an integral part of our chapter through her roles in leadership and involvement in courses and activities," Wright said. "I know her experiences in the Beloit Agricultural Education program and time at Solomon Valley Veterinary Hospital have greatly influenced her career choice in veterinary medicine."
At the young age of 4, Porter was already setting her dream in motion.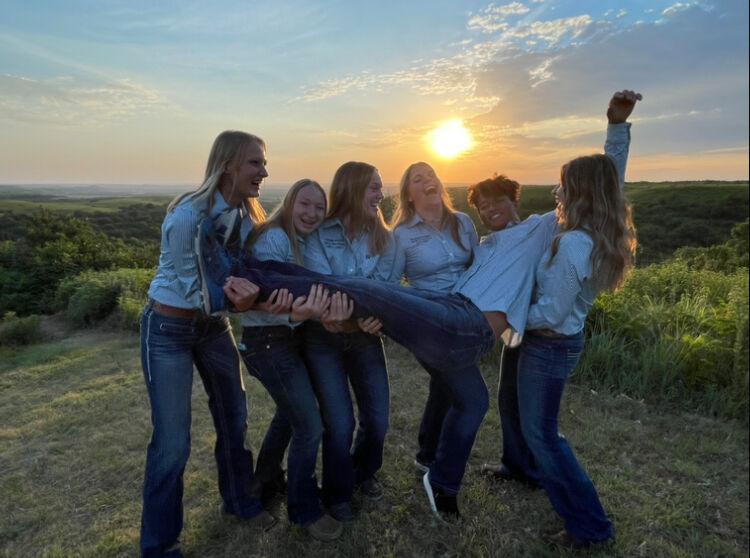 "All I can really remember from my childhood is wanting to heal puppies and kitties," Porter said. "My parents said that becoming a veterinarian was all I could talk about when I was 4. Once, I learned the long word that meant a person who saves animals, I was hooked."
Her inspiration to complete the award application also came from being determined to achieve something to make her family, friends and community proud. The application was 20 pages long.
The 17-year-old senior, lives outside of Beloit. Her parents don't farm, however, both sets of her grandparents raise corn, milo, soybeans and wheat. One set has about 100 head of cattle.
Her parents, Angela and Stuart Porter, are very supportive, she said. Her mom, is an assistant banking cashier, and her dad is a civil engineer.
"They are the most supportive parents. I'm very blessed to have them," she said. In addition to her veterinary knowledge that helped her with the application, her dad was there to edit her essay if she needed help with grammar.
"He and I talked about ideas, and that was great for me. My mom gave emotional support," she said.
Her parents and grandparents went to Indianapolis to show their support in person, which she says was very sweet.
Porter is her FFA chapter's president and a district officer, but FFA isn't the only group that keeps Porter busy. She's involved in 20 extracurricular activities.
"Being busy is definitely one of my hobbies. I like fishing, I love being with my dog and cat and reading paperback mysteries. Agatha Christie is my jam."
She also likes books by author James Herriot, who was in Porter's chosen field. He was a British veterinary surgeon and author.
When her schedule permits, she helps her grandparents check cattle and water.
"Sometimes I'll also cut beans with my brother. I haven't started driving the grain cart or the semis yet," she said.
After high school, Porter plans to continue working at the vet clinic, but she's also deciding whether to be a state FFA officer, which would require a busy 2023 summer schedule.
Next fall, she'll attend Kansas State University and plans to apply to the pre-acceptance veterinary program.
Porter values her FFA experience: "Without FFA, I would definitely not be the person I am today."
Reporter Amy Hadachek is a two-time Emmy Award winning meteorologist and a storm chaser who earned her NWA and AMS Broadcast Meteorology Seals of Approval. She and her husband live on a diversified farm in Kansas. Reach her at amy.hadachek@midwestmessenger.com.