When Dylan Cook saw his vegetable crop wash away in a 2021 flood, he reached out for help, finding support from his social media friends.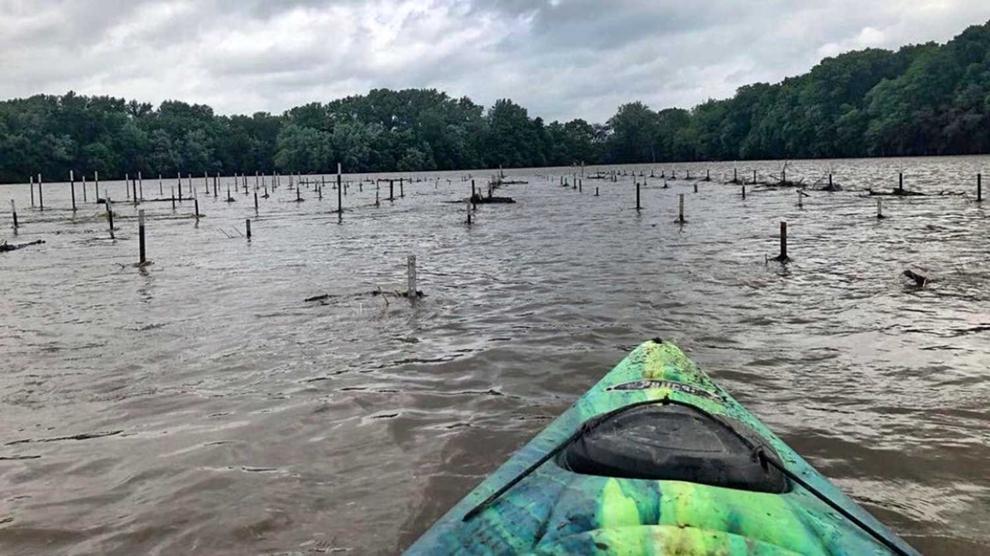 The overwhelming response brought in so much money, he sought help from the Central Illinois Young Farmers Coalition to distribute the surplus, leading to the creation of a new organization to help small and beginning farmers during a crisis.
"It's a safety net for farmers who often don't have one otherwise," says central Illinois grain and fruit farmer Jeff Hake about the new Central Illinois Disaster and Emergency Fund, or CIDER for short.
Hake describes seeing Cook's photos after the flood that wiped out his vegetable crop in rural Bloomington.
"Their farm was flooded with water up to 7 feet high on the tomato stakes," Hake recounts.
Hake understands how quickly a crop disaster can happen.
"We lost a popcorn crop from another flood," he says.
He is co-owner of Funks Grove Heritage Fruits and Grains with his wife, Katie Funk, and her brother Jonathan. They started their business in central Illinois in 2016 with products including baking mixes made with wheat, maize and barley they grow and fruit leathers made with maple sugar from the farm. 
Other small farm advocates say CIDER is truly needed.
"Direct cash assistance is imperative to small and beginning farmers, especially if facing a crisis. I was farming myself when Cook Farm flooded, and I remember that we could definitely imagine what they were going through. We were heartbroken on their behalf," says Crystal Siltman , farmer training coordinator for The Land Connection. "While there are many resources out there for small and beginning farmers, hardly any are rooted in monetary assistance."
Hake and others poured their efforts into what has become CIDER "to give small but meaningful funding to farmers in central Illinois who experience a crisis on their farms."
CIYFC formed a committee to decide how to distribute the $3,000 Cook donated, says Hake. The CIDER committee figured out the details of how funding would work.
"They put meat on the bones of the whole thing about how to legally and thoughtfully manage the funds," Hake says.
Before they had everything figured out, more money and support came rolling in for the relief fund, including two donations of $10,000 each by Quincy-based Niemann Foods.
The committee developed an application and put together a complete set of procedures to allow CIDER to be responsive in times of on-farm crisis, he says.
"The CIDER Fund has the flexibility and agility to provide the kind of relief that helps young farmers begin to get back on their feet," says Liz Rupel, lead organizer for the Illinois Stewardship Alliance. "The CIDER fund carries on the long tradition of farmer grassroots mutual aid efforts to protect their survival."
In the long term, though, young and beginning farmers need state and federal solutions that help them bounce back from disasters, Rupel says, like whole farm revenue insurance that works for their unique challenges, and to be included in emergency and disaster relief.
Three farmers who had losses in the same Bloomington-
Normal flood as Cook were the first to get $500 each, Hake says.
"They were very happy to receive it to pay bills and buy new seeds to replace what had washed out," he says.
In these situations, the money needs "to move very fast. If a farmer needs money they could get help very fast," he says.
Another $500 has gone to a young farmer with a cancer diagnosis and to a farmer who experienced a fire in Kankakee.
They chose $500 initially as the gifting amount since it falls below the $599 taxable income, he says.
"Sometimes you need a lot more than that. I'd like to offer more than that. We might change the allotments for anyone with a qualifying disaster," Hake says.
The recipients have been small enterprises, with four vegetable farms and one flower farm getting funding so far. There has been no official size limit set yet, but in the future, there may be an upper limit of 1,000 acres. Also, farming doesn't need to be their primary form of income, he says.
In a fundraising effort, John McNally, Sven Johnson and 20 musicians recorded songs for an album, Without a Trellis.
The group already had $22,000 on hand when it held its launch party in February, raising another $3,000, he says.
Hake and others want people know the emergency fund exists.
"We want to make sure this is on people's radar," he says, for both potential donors and potential recipients.
Find out how to apply or donate to CIDER at bit.ly/457ux4P or search Central Illinois Young Farmers Coalition on Facebook.